My experience of working as a coach for the past 20 years has taught me that women often have difficulty acknowledging their achievements and 'blowing their own trumpets.' Many of my female coaching clients have confessed to experiencing Impostor Syndrome, which means that they are unable to believe that they are competent, they feel like a fraud, think they will be "found out" and lack self-belief.
This International Women's Day and beyond I pledge to help women achieve their ambitions and to celebrate their achievements. To mark the day, I asked the staff of Barefoot Coaching to tell me about the women who inspire them and who they wish to celebrate:
"I believe that storytelling is a way of navigating our lives, and that to read ourselves as fiction is much more liberating than to read ourselves as fact. Facts are partial. Fiction is a more complete truth. If we read ourselves as narrative, we can change the story that we are. If we read ourselves as literal and fixed, we find we can change nothing. Someone will always tell the story of our lives – it had better be ourselves." This quote from Jeanette Winterson OBE sums up my approach to life and to coaching. This International Women's Day, I would like to celebrate this extraordinary woman, whose work has helped me shape how I see the world." – Carolyn McDonald, Barefoot Course Facilitator
"2017 was a difficult year to be a mother to a daughter. Much of the news served as an unwelcome reminder of the price women still pay for occupying our rightful space in the world. This International Women's Day, I would like to celebrate my daughter and all her three-year-old wilfulness. I pledge to nurture and encourage her passions to let her know that she can do anything that she wants to do. I will congratulate her for pushing herself, for speaking out and for persevering in the face of adversity because we still have a long way to go." – Saira Aspinall, Head of Marketing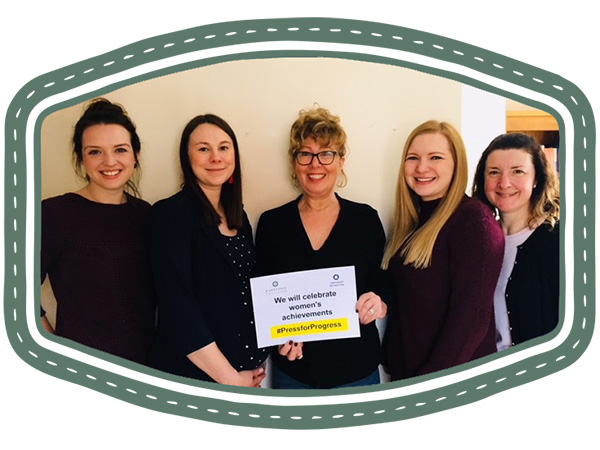 "This International Women's Day I want to celebrate the runner Katherine Switzer. A year ago, I ran the London Marathon. This distance was once considered too far for a "fragile woman" until Katherine, entering the event with her initials to receive a race number, fought off physical attacks to finish the 1967 Boston marathon. It took Katherine a further five years of pressing for progress before women were officially permitted to enter the long distance running event. I will continue to press for progress by supporting and encouraging women's inclusion in sport and modelling an active lifestyle to inspire those around me." – Sabrina Cox, Team Member, Barefoot HQ
"This International Women's Day, I want to celebrate my Nan. My Nan was born in 1928, the same year that women received electoral equality with men. Throughout her life, she always aimed to be the best that she could be and worked hard to provide her family with opportunity. Her positive outlook on the world and her genuine love for those around her, were some of her greatest strengths. This International Women's Day, I pledge to follow in my Nan's footsteps and continue to celebrate and empower the women around me." – Lauren Banyard, Team Member, Barefoot HQ
"I am a huge admirer of Chimamanda Ngozi Adichie and her Ted Talk 'The danger of a single story'. When I first watched it years ago it inspired me and ignited my thinking. Her articulation of the concept that "when we reject the single story, when we realise that there is never a single story about any [person or] place, we regain a kind of paradise." remains central to my coaching practice today. The opportunity for people to see themselves or their situation from another perspective can be transformational." – Sorrel Roberts, Barefoot Course Facilitator
"I would like to celebrate the achievements of Wendy Toms who was the first woman to be included on the list of Football League assistant referees. She opened the door for women to be recognised as equals in a previously male dominated arena and progress to become match referees alongside their male colleagues. Despite the sometimes very critical comments about her decision-making made by managers, Wendy never allowed this to affect her performances and became a great example for female officials to follow." – Sarah Collins, Team Member, Barefoot HQ
"My mother brought me up as a single parent. There were no gender-based stereotypes during my upbringing, if you wanted something done, you did it yourself. This International Women's Day I want to celebrate my mum and the strength and resilience she instilled in me. I will continue to challenge those who challenge equality, to call-out sexual discrimination in all its forms and push for opportunities to get women's voices heard." – Samantha Davies, Team Member, Barefoot HQ
Coaching helps people to acknowledge their strengths and talents and to internalise their achievements. A coach will encourage clients to practice speaking positively about themselves and to celebrate their successes. Coaching can tackle perfectionism, procrastination and Impostor Syndrome, all of which limit our ability to value ourselves and the contributions we make in the world.
Women who have received coaching report that they:
are better at giving and receiving feedback
are more resilient
have more self-confidence and assertiveness
value themselves more highly
take more risks
see the world more positively
are more ambitious
"Until you make the unconscious conscious, it will direct your life and you will call it fate." – Jung
I celebrate every woman who has been courageous enough to be coached or to become a coach with Barefoot Coaching. They have engaged in the challenging process of making the unconscious conscious, expanding their self-knowledge and embracing change in their lives. Many of them have then gone on, as coaches themselves, to support and celebrate the achievements of other women.
#PressforProgress
Kim Morgan, Managing Director, Barefoot Coaching